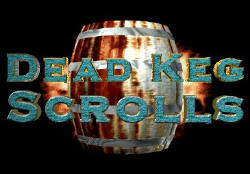 I MacThoy 8:12--Watch and Pray that you may have the opportunity to enter into Temptation.
II MacThoy 3:9 -- Rejoicing in Hops, Impatient in Imbibitions, Persevering in Philandering
Libations 3:4 -- The Alchemist spake saying, "Verily, if ye don't remember committing the Sin, God has already Forgiven you, with the Gift of Blissful Blackout."
Avarice 5:2 -- If I distribute all of my Goods to feed the Poor, it Profits me Nothing.
Lust 3:10 -- While we have Time, let us do all Good Men.
Lamentations II 6:8 -- Neither horn they upheld nor handed me bread. I fell to the ground and cried aloud.
Proverbs 2:2 -- He that hath a Baleful Eye knoweth not the want that shall come upon him.
Read about the Discovery of the Dead Keg Scrolls.